Cheer New York
Cheerleaders for Charity!! - "Reaching new heights with love, spirit, strength and understanding."
Wednesday, April 30, 2008
Friday, April 11, 2008
Back to Back: Giving Back
This weekend we have what you might call a "CNY doubleheader" (yes, baseball season has official begun). Two cheer events in two days. I know, it's almost too amazing to believe.
By now you are asking yourself,
"What kind of INCREDIBLE, KICK BUTT, down right STUPENDOUS events could inspire 20+ adults to give up their entire weekend?"
Let me introduce to the culprits, YAI and MS Walk.
Saturday, April 12th Cheer NY has been invited for the third year in a row to perform at the
YAI (National Institute for People with D
isabilities)
Annual Family Dinner. We build spirit tunnels, we perform awesome routines, and sometimes, if the mood is right, we do the funky chicken. Hands down one of our favorite events of the year.
Sunday, April 13th from 11am-6pm CNY will be at Pier 16 at the South Street Seaport to cheer on the walkers and runners participating in the
MS Walk
. Hopefully the weather will be beautiful and it won't be hot enough for the pier to smell like fish. That alone is a reason to come join us!
Click on the image below to check out a video of us at MS Walk last year!!
Hope to see you all at our charity weekend extravaganza!
Wednesday, April 02, 2008
It's Newsletter Time....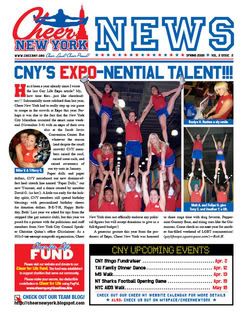 In this issue read titillating articles about:
Cheer New York's performance at Gay Life Expo, our donation of $2,000 to the homeless, end of season CNY award winners, supporting participants in God's Love's Race to Deliver, and much more!
A big thanks to Rick, Nicholas, Raelyn, Mike and Jennie for their editorial contributions and to Scott, Jennie and Felipe for ALL their behind the scenes help to put out another cheerific newsletter!
Enjoy!
Labels: 2008, newsletter, spring